Profile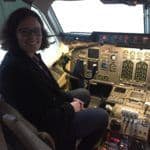 Riona Armesmith
Curriculum Vitae
Education:

St Nicholas School, Nuneaton, Sharnford School, Sharnford, Hastings High School, Burbage, John Cleveland College, Hinckley, King Edward Sixth Form Colllege, Nuneaton, De Montfort University, Leicester

Qualifications:

GCSEs. A-Levels: Maths, Physics, Electronics. BEng Electronic Engineering

Work History:

I started out at Cummins Generator Technologies when I was at University and moved to Rolls-Royce a few years after University

Current Job:

Chief Project Engineer Hybrid Electric Propulsion at Rolls-Royce Plc

Employer:
About Me

I like animals and solving climate change

Read more

I live in Derbyshire with my wife, our children who are 5 and 2 years old, a chocolate Labrador puppy and a tabby cat (who can be a bit grumpy with the puppy some times).

My favourite TV shows are The Big Bang Theory and Brooklyn 99, I love reading and I like all types of music but my favourite is rock music.

My Work

I am developing the world's first big hybrid-electric aeroplane engines

Read more

I work at Rolls-Royce, developing some of the world's first hybrid-electric engines for aeroplanes that you might go on your holidays on. I work to make flying better for the environment and I have a team of around 200 engineers all around the world, working together in order to make it happen. I started out as an electrical engineer, designing motors for aeroplanes, ships and submarines and now I am the Chief Project Engineer for Hybrid-Electric Propulsion.

It's really quite hard to make aeroplanes hybrid-electric because we have to make really big motors, electronics and batteries but they have to be super light weight so that the aeroplanes can still take off. So I fly around the world a lot, meeting with other people who might be able to help me along the way and I talk at lots of conferences in front of  hundreds of people, to tell them what we are doing and motivating them to help me to solve some of the tricky bits of making a hybrid-electric plane.

My Typical Day: I usually get to work after dropping my daughter off at nursery at around 8am. I then have some meetings to review our designs, computer model results or test results to decide which designs we should make and how we might solve any problems that we have found from our test results. Sometimes I have lunch or go for coffee with my friends and then I will go back and work with lawyers to write contracts and make sure we are sticking to our project plans and our budget to make sure we have enough money left to finish the project.

Read more

I often talk to journalists and plan our communications for the project with my marketing team. The project is very exciting and nobody else in the world has ever done what my team and I are doing before so lots of people are very interested in hearing about what we are doing. This means I have to write lots of magazine articles and make videos about what we are doing.

I also make sure we have the brand new test beds that we need to test our new hybrid-electric engines and that we have enough people on the team that have the right kind of skills so that we so everything we need to do to make this technology for the first time.

My Interview

How would you describe yourself in 3 words?

Inquisitive, Decisive, Bold

What's the best thing you've done in your career?

Been in charge of making the world's first big hybrid-electric aeroplane engines

What or who inspired you to follow your career?

I really liked maths and physics at school, I liked solving problems and I always found electricity and magnets really interesting so I decided to be an electrical engineer after my physics teacher took me to a talk about female engineers.

What was your favourite subject at school?

Maths and Physics

What did you want to be after you left school?

An engineer

Were you ever in trouble at school?

Not really, I usually got away with a lot because I was clever

If you weren't doing this job, what would you choose instead?

A vet

Who is your favourite singer or band?

Metric

What's your favourite food?

I love trying all kinds of food. I don't really have a favourite.

What is the most fun thing you've done?

Scuba dived with sharks and sea turtles

If you had 3 wishes for yourself what would they be? - be honest!

To have more time to explore and learn more about all of the different things I get interested in. To be better at woodwork. To travel the world less for work and more for holidays!

Tell us a joke.

Why did the boy throw his clock out of the window? Because he wanted to see time fly.
---
---
---