Profile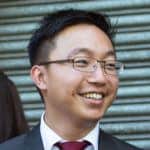 Holt Wong
Curriculum Vitae
Education:

Dubai College, Manchester Grammar School, University of Oxford

Qualifications:

10 GCSEs; 5 A-levels, 2 AS-levels; MEng Engineering, Economics & Management; DPhil Engineering Science

Work History:

Intern at Deloitte, Admin assistant at MEI, Intern at Rolls-Royce, Researcher at University of Oxford, COO of Qdot Technology Ltd.

Current Job:

Chief Operating Officer

Employer:

Qdot Technology Ltd. is an Oxford University spin-out company whose mission is to enable clean energy by creating thermal management solutions for clean generation and usage of electrical power.
The founding team's first innovation to that end was a heatsink design for a nuclear fusion power plant divertor target – a component that must endure 100,000 times the power of the sun.
Using this IP and the expertise of the team, Qdot is now developing a cooling system for ground and air electrical vehicle batteries that will make possible extremely fast charging – adding 200 miles of range in just 10 minutes for ground vehicles; as well as compact heat exchangers using advanced design and manufacturing methods.
About Me

I'm an Engineer, trying to grow my own high tech business.

Read more

I grew up in Dubai, UAE and have now been living in Oxford since starting my undergrad degree. Outside of work, I enjoy playing and teaching piano. As a student, I used to run a college big band, and a college orchestra, but I haven't been in a band lately.

My Work

I invent cooling systems that prevent nuclear fusion plants, aeroplane engines and EV batteries from melting or worse.

Read more

I recently founded Qdot Technology Ltd, an Oxford University spin-out company whose mission is to enable clean energy by innovating thermal management solutions for clean generation and usage of electrical power. The company's focus is currently in nuclear fusion power plant cooling and EVs, both ground and air.

I also conduct research at the Oxford Thermofluids Institute (where I did my doctorate degree) specialising in heat transfer, in particular the cooling of jet engine components and power electronics in electric vehicles. As a cooling engineer, I use experimental data, computational models and experimental methods development to ensure that components operating in extremely adverse environments do not fail in service.

At Oxford, I also teach undergraduate Engineering at a couple of the colleges.

My Interview

How would you describe yourself in 3 words?

Engineer, Innovator, Entrepreneur

What's the best thing you've done in your career?

Did a DPhil

What or who inspired you to follow your career?

Fascination of aeroplanes, my DPhil supervisor

What was your favourite subject at school?

Design & Technology

What did you want to be after you left school?

Investment banker

Were you ever in trouble at school?

Not really

If you weren't doing this job, what would you choose instead?

Work in the aerospace industry

Who is your favourite singer or band?

Rage Against the Machine

What's your favourite food?

Tempura

What is the most fun thing you've done?

Skydiving
---
---
---